Free webinar with Jo Gakonga "Vocabulary tools in a digital world"
Detalii

Categorie: Pagina 1
Publicat: Miercuri, 20 Ianuarie 2016 15:17
Scris de Alexandru Mîţă
Accesări: 2205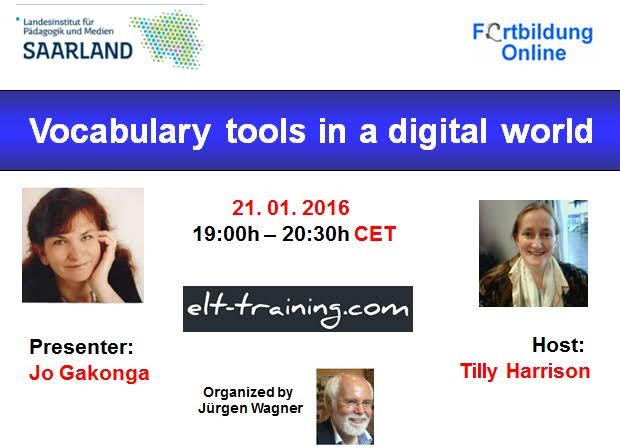 The centrality and importance of vocabulary and how we can take some of the work out of it for learners

Digital tools to recycle and reinforce vocabulary and to flip the classroom

Using Quizlet outside class to help learners remember vocab taught

Making Quizlet work better with chunks of language and collocations

Using Educanon to pre-teach vocabulary in authentic videos and flip the classroom

Using FluentU as a way of motivating learners to acquire more vocabulary outside class.
21. 01. 2016 | 19:00h -20:30h CET
Time and date where YOU are
Presenter:     

Jo Gakonga

Host:            

Tilly Harrison
You will need neither a username, nor a password
Select the option "Enter as a guest" and 

enter IMPERATIVELY your FULL !!! name into the box

.
(All attendees are "guests")
Both presenter and host are Senior Teaching Fellows at the University of Warwick
E4.512-0356: Breaking News English and similarly compelling EFL sites from Sean Banville

Referent: Russell Stannard / Host: Tilly Harrison

14.03.2016 | 19:00h - 20:30h CET

access link: 

https://webconf.vc.dfn.de/breaking/
E4.123-0256 More than just another introduction to Teaching English as a Foreign language   

23. 05. 2016 | 19:00h - 20:30h CET

Dr. Nancy Grimm / University of Jena / Host: Uwe Klemm

access link: 

https://webconf.vc.dfn.de/teachingenglish/
E4.512-0467: Creating videoclips for language learning: tips and tricks for teachers and students

Mélanie Auriel / Host: Joe Dale
03. 11. 2016 | 19:00h - 20:30h CET

Access link: 

https://webconf.vc.dfn.de/creatingclips/
·         Have a look at the feedback to our webinars