Teaching Lower Secondary Students – Creating the Perfect Mix, Vaslui, 25-10-2018, 14:20
Detalii

Categorie: Pagina 1
Publicat: Marți, 02 Octombrie 2018 13:26
Scris de Alexandru Mîţă
Accesări: 657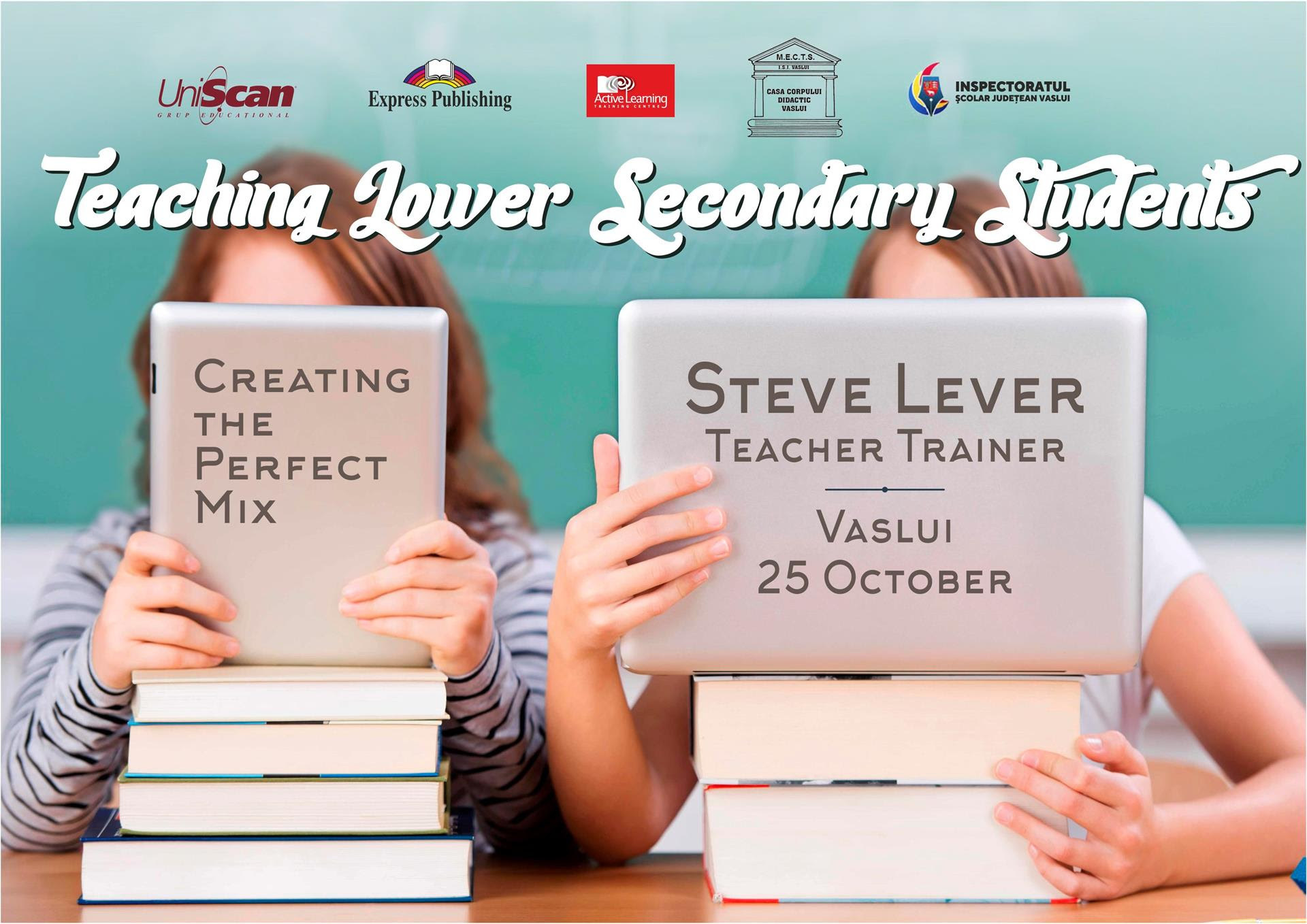 County School Inspectorate Vaslui
Uniscan Grup Educational within Active Learning Training Center
and Express Publishing
Take the pleasure to invite you to the workshop
"Teaching Lower Secondary Students –
Creating the Perfect Mix"
Held by
 Steve Lever, teacher trainer, Express Publishing
Date: October 25, 2018, 14:20 – 16:30
Venue: Vaslui, CCD Vaslui, 37 Stefan cel Mare street
New course materials reflect changes in methodology and new educational norms. Of course, they also require modern teaching methods. Today, this means encouraging active engagement with the language and enabling student involvement in all stages of the lesson.
In this session we will look at ideas and techniques that will help teachers keep their lessons dynamic and discuss the need for balance, e.g. leaving time for 'quiet work'. We will also consider what we can do to help weaker students while providing adequate stimulation for those who find it easier.
Biodata:
Steve Lever holds a BA from Leeds University. After working as a teacher of EFL for eleven years, he moved into ELT consultancy for Express Publishing in 2001. In this capacity, he has travelled around the world delivering workshops and seminars. He has been a plenary speaker at many international conferences. Steve has a strong amateur interest in teaching through drama and encouraging the use of critical thinking in education. He also works as a freelance translator and proof-reader and copy editor.
For registration please click here.
Participation is free of charge as the event is sponsored by Express Publishing and Uniscan Grup Educational.
All participants will receive Certificate of Attendance signed by CCD Vaslui, Inspectoratul Scolar Judetean Vaslui, Uniscan Grup Educational and Express Publishing.
We are looking forward to welcoming you at our workshop on October 25, 2018!